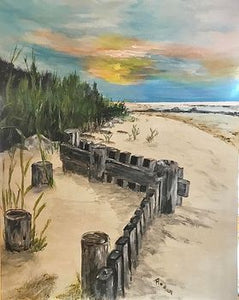 I am always honored when a painter asks to paint some of my pictures. I envy anyone who paints. I can't do it. I don't have the patience or the attention span to create a painting. I paint with my camera I guess. So when artist Tom Hogan asked me if he could paint some of my pictures, of course, I said yes. The one with the two chairs is Bass River in Yarmouth. The bench is Tonset River in Orleans. The fence is Breakwater Beach in Brewster. Thank you so much Tom! They are beautiful. Tom Hogan https://www.facebook.com/profile.php?id=100027834414329  ...
---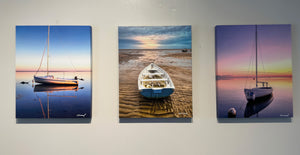 Seven of my prints are hanging on the wall of Cafe Alfresco in Brewster! If you are in the neighborhood, go check them out! Some of the proceeds of the sales of the prints will go right back to the Cafe! I love supporting our local businesses! I plan on adding more prints of different Cape Cod locations in the upcoming months. So stop by! Cafe Alfresco has an excellent menu! Here are details of the prints and where the Cafe is located. #1 - 16x20 Gallery Wrap Canvas of Point of Rocks Beach, Brewster#2 - 16x20 Gallery Wrap Canvas...
---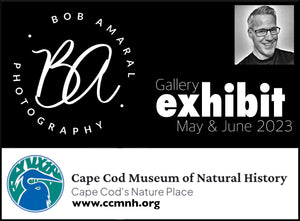 It's official! I am having a gallery exhibition at the Cape Cod Museum of National History!  All of these prints are available for purchase. A percentage of the sales will go directly to the Museum. I will be showcasing 21 of my prints in various sizes and formats. These formats include canvas gallery wraps, framed canvas, framed prints, and standouts. The dates are from May 1st to June 30th.  I will be replenishing the sold pieces every week. So the walls will be in a constant change with new things. So keep coming back! Please check the website below or...
---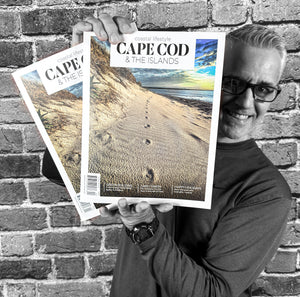 I am honored to have one of my pictures on the front cover of Cape Cod and the Islands magazine! The picture was taken at Chapin Beach in Dennis. It is some mysterious creature that left its footprints in the sand. For more information about this wonderful magazine, please click the link below:https://capecodandtheislandsmag.com/  
---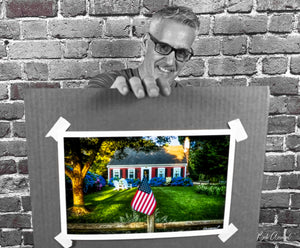 A great story here: This is a shot I took of a house near Sea Street Beach in East Dennis – Cape Cod. I hardly ever take pictures of houses. I just saw this beauty leaving my photoshoot that morning. I turned around and took the shot. I then posted it on social media. The owner of the house saw it and wanted to buy it. I had no intentions of selling it. It was just a composition that I happened to stumble upon. So I am giving to her for free. I am going to drop it off this...